Exito Electronics Co., Ltd., founded in 1979, has been continuously committed to conducting our business under the highest standards and ensuring that our products are manufactured to the strictest quality
"

Doing Quality Management
Carrying Fluency Motion

"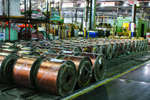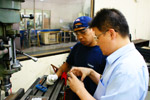 standards. With the most advanced facilities and a team of talented professionals from different areas, Exito is one of the most competitive electronics companies in Asia.

With headquarters in Taiwan, Exito has implemented efficient production factories in China and the Philippines to ensure that the best products and services are being provided for local and global deliveries to North American, Japan, China and Europe. Consistent with the demands of our customers and in pursuit of the on-going growth of Exito, we are dedicated to R&D and manufacture a variety of cable, surge strip and relative products.
Exito has demonstrated its outstanding integrated abilities in market research, industrial design, prototyping services, engineering, packaging design, mass production and logistics. For more than 3 decades, Exito supplies to famous-named customers worldwide, from industrial companies to wholesale supermarkets. Exito provides customized products to enhance each client's business value and competitive advantage. Besides, Exito always can bring the biggest value and build up the most efficient and strong business relationship with customers by product creation and production flow betterment.